About Us
Hello, my name is Fintan Fawsitt and I am the owner and director of treeworks.ie.
I have over 17 years of experience in the areas of forest management, arboriculture and tree surgery. We have offices in Blackrock and Walkinstown that can cover the demand for quality tree services across county Dublin, Dublin city and the surrounding counties. We are also insured with Insight Insurance, which covers employers liability, public liability, pollution liability and professional indemnity. We are fully tax compliant and can produce a tax clearance certificate on request.
All our staff are highly trained and qualified to meet the demand for jobs of any size. We pride ourselves on working to a high standard with a focus on customer satisfaction.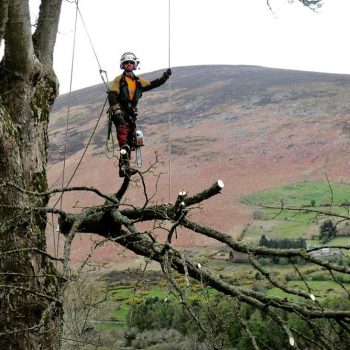 Qualifications
Below you can see some of the qualifications you can find amongst our staff:
3 year National Diploma in technology in forest management
LANTRA Professional Tree Inspection course
CS30 NPTC Chainsaw maintenance and cross cutting
CS31A/B NPTC Felling small trees
CS32A NPTC felling medium trees
CS33A NPTC Specialist large tree felling
CS34 NPTC Windblown trees
CS36 NPTC cross cut and stack produce
CS38 NPTC Arial rescue
CS39 NPTC chainsaw from a rope and harness
CS40 NPTC carry out pruning operations
CS41 NPTC carry out dismantling operations
CS47 NPTC level 2 award to operate a chainsaw from a mobile elevated platform
PA1/PA6A NPTC safe use of pesticides
UA1 IRL NPTC level 3 award in basic electrical knowledge
NPTC Wood chipper certificate
Certificate from a Coillte inventory course (map reading, forest
inventory, timber measurement, electronic callipers)
Certificate from a Coillte hardwood shaping
Manual Handling
Safepass
CSCS signing, lighting and guarding at roadworks
Occupational first aid at FETAC level 5
ISA member
We also enjoy competing in the national and UK tree climbing competitions, which keep our tree climbing skills sharp and up to date.

Clients
We provide top quality tree services to the private, commercial and public sector which include
Private households
Property management companies
Schools/Colleges
Committees
Residents associations
Industrial parks
City parks
Landscape professionals
Utility companies (e.g ESB)
Ground work companies (e.g KN Group)
County and city councils
Embassies
Army barracks
Our clients like to use us because we are competitive, professional, kind and conscientious.
Safety
Here at treeworks.ie safety is always our first priority.
Some of the steps we take to fulfil our safety obligations are:
Method statements and site risk assessments
Always wearing the correct P.P.E. (personal protective equipment)
Routinely getting our tools and equipment inspected by outside sources, LOLAR
Traffic and pedestrian management
First aid training and supplies.
Emergency procedures
Tool box talks before starting jobs
Active communication
All our staff have the relevant qualifications to perform their required roles. This ensures that the tree work will be carried out at a safe and high standard.
Environmental
Tree Symbiosis
Working with trees keeps us close to nature on a daily bases. This always reinforces the importance of working in harmony with nature as much as possible. Listed below are some of the ways we do our best to work with the environment.
All our woodchip, timber and green waist gets recycled to biofuel or gets used on farms, stables, golf courses and gardens.
Where possible we use state of the art battery powered tools, this eliminates the burning of petrol and dramatically reduces the noise levels. This also has the benefit of allowing us to work in noise sensitive areas and times. e.g. schools/colleges, densely populated areas, night work.
We use biodegradable oil in all our chainsaws.
Respecting nesting season and keeping a keen eye for badger sets, bats and bees is always very important.
The use of climbing spikes are only used on trees that are being dismantled. Do not let anyone spike your trees unless they are taking the spiked stems out completely. Climbing spikes or spurs are sharp metal ankle wear that a tree climber can use to stab a foot hold into a tree. This opens the tree to infections and pathogens.